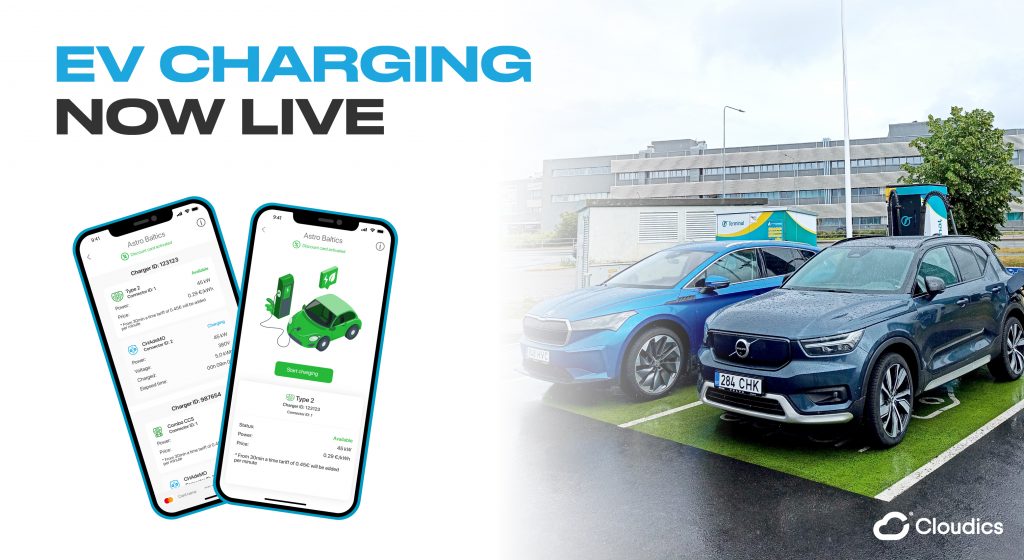 Cloudics EV charging is now Live. Join the revolution!
Postitatud: -
We are happy to announce that Cloudics has reached another important milestone on its journey. Since the 15th of July, it is possible to use the first EV charger working on Cloudics software and, of course, pay for the service conveniently in our mobile payment app.
Our mission is to be a pioneer in eco-friendly and seamless refilling & charging
Cloudics's goal from day one has been to be a pioneer in creating more eco-friendly and easy-to-use solutions in the field of energy stations, and our cloud-based Cloudics software is a reflection of our mission.
We have already made great steps towards a greener tomorrow by removing paper receipts and plastic cards from the payment process with the help of the Cloudics mobile payment app.
In addition, the thousands of kilometres and euros that the cloud-based software allows energy station operators to save on maintenance.
---
With Cloudics, a traditional refuelling stop has now become also a recharging stop
It's not a question of when energy companies need to get into EV charging. It makes more reason to ask how quickly they can do so.
EV charging business needs to be developed quickly and professionally to ensure sustainable growth. Realizing that charging has more and more impact on tomorrow's energy market, we are extremely pleased that we have taken a major step forward in EV charging.
Cloudics' team has been working hard for more than a year to create a comprehensive solution for EV charging. Today we can proudly say that we have created a software solution where managing a charger, charging an electric vehicle and paying for the service are all comprehensively in one place.
In addition to eco-friendly Cloudics mobile payments, our software solution also contains a CSMS, which is a central platform for managing electric chargers.
Cloudics CSMS (Charging Station Management System)
Finding synergies in IT and business ecosystems is essential. Flexible software lets you manage tariffs and enables direct payment for charging sessions through mobile payments.
Cloudics is also scalable, can handle flexible tariffs, allows linking customers to your loyalty program. Cloudics modular system is built for flexibility, so you can upgrade or expand it at any time with additional features.
In Cloudics CSMS, the users can:
View detailed information about connected charging stations

See charging data, temperature, voltage and energy levels in real-time
See information about charger statuses, logs and transactions

Share data with external systems such as loyalty programs through flexible API
Monitor, reset, update or restart the charging stations remotely
Set dynamic prices based on group, tariff, power-based or subscription
---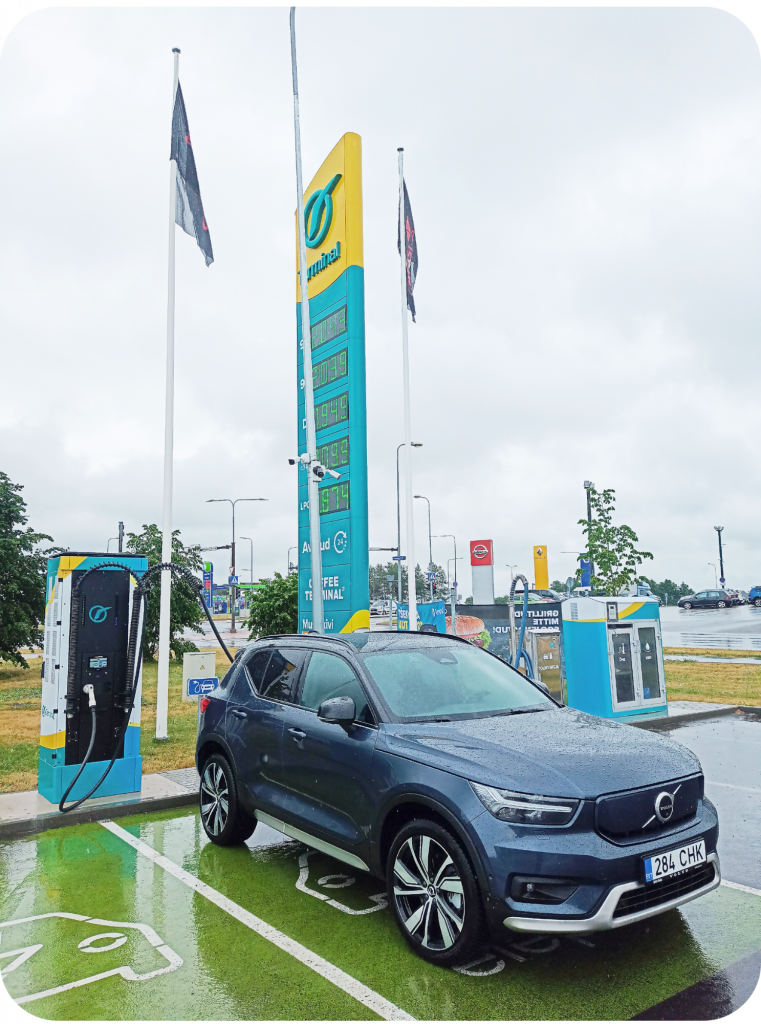 First EV charger of Cloudics in Tallinn, Estonia
Cloudics EV charging journey starts at Mustakivi Terminal Oil, located in Tallinn, Estonia.
Customers can locate the charger, start charging, monitor progress, and pay through Cloudics mobile payment app.
This charger offers a Chademo connector up to 60kW and a CCS2 connector up to 120kW.
Charging and other possibilities: all in one Cloudics mobile payment app
Cloudics mobile payment application offers a convenient, fast and environmentally friendly charging experience.
It is an innovative payment solution created for your customers, removing all the unnecessary steps from the refilling process.
Our mobile payment application allows you to develop, understand and grow your customer base while providing an opportunity to engage new potential customers with the help of innovation.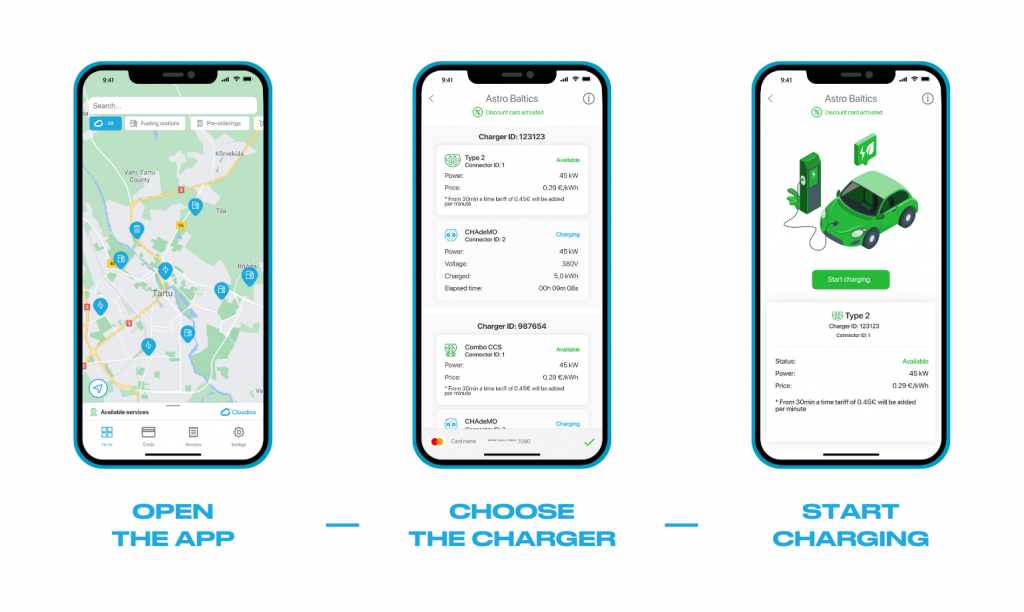 In addition to charging, Cloudics can also be used for refuelling in more than 250 energy stations all over Estonia. Cloudics also features shopping solutions: pre-ordering products or using smart shopping at the c-store.

Read more about Cloudics mobile payment app here.
---
Enter EV Charging with Cloudics!
We believe that EV Charging is about to become a commodity. Fuel stations have already become more than just a place to fill up your tank. They are suppliers for people on the move.
Cloudics provides easy integration of charging stations into your current infrastructure to make your entry into e-mobility comfortable and with the lowest investment possible.
We are expanding the charging network, developing and upgrading our software systems, and our goal is to offer an even wider range of solutions.
If you wish to learn more about Cloudics EV solutions, sign up for a demo here.
Thank you to our partners Terminal Oil and Info-Auto.
Regarding any questions contact us:
info@astrobaltics.eu
+372 628 0000

Cloudics
Future of EV Charging!