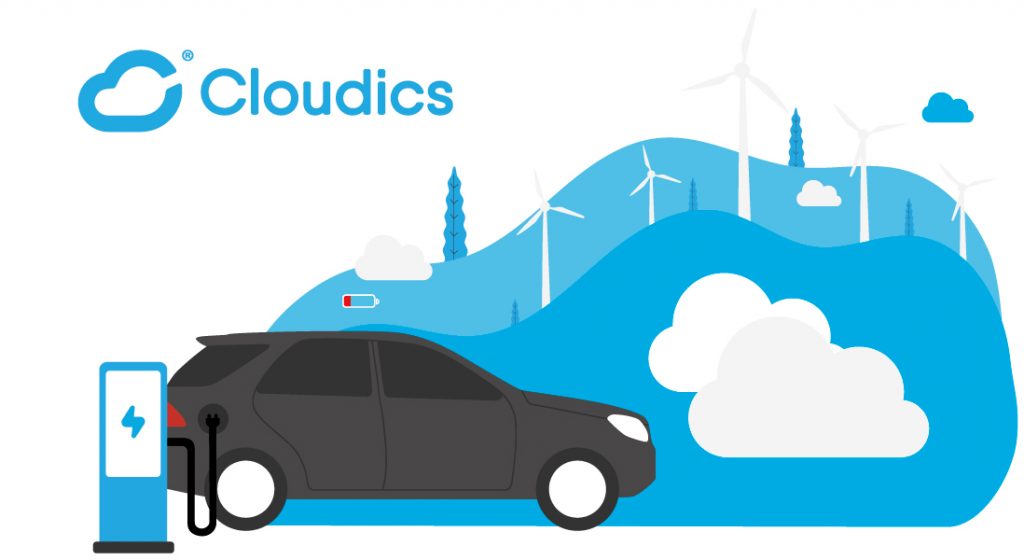 Cloudics is charging into the future: integration with EV systems is now ready!
Postitatud: 1 February, 2022
The EV market is growing fast as customers seek greener alternatives to diesel and petrol. By 2030, the world will have 40 million EV charging points (source: GTM research). Cloudics' team is proud to announce that our cloud-based solution is now ready for integration with EV charging stations!
Many roads lead to electricity
Electrification of transportation is at the heart of both the mobility and energy revolutions, creating a booming market and exciting future. A BloombergNEF study reveals that the global electric vehicle market size and adoption will grow in the long run.

The report shows that electric vehicles (EVs) currently make up only 3% of car sales worldwide. By 2025 electric vehicles (EVs) will reach 10% of global passenger vehicle sales, growing to 28% in 2030 and 58% by 2040. Filling station operators will need to make sure that the right infrastructure is in place to address a continuously evolving market and be prepared for the future.
We at Cloudics believe that for the future we need an innovative and stable solution that supports growth and contributes to a successful transition for fully electrified vehicles while also providing customer-centric approach and new digital services to the company.
Cloudics is charging into the future
Our team at Cloudics has spent multiple years developing a management solution that is future-proofed, customer-centric and has extensive functionality.

We have created a web-based data-driven platform that is connected to the station's ecosystem, gathers the most important information and enables even further monetization of your station's assets. Our dedication to producing advanced fuel and energy management tools means supporting the market growth, lowering prices for end-users, reducing carbon emissions and optimizing overall energy consumption.
Cloudics
Cloudics team believes that future energy stations no longer need troublesome hardware. We are certain that our focus should be 100% on environmentally friendly and customer-centric refilling and payment solutions. Regardless of the type of fuel in question.
Cloudics is an innovative cloud-based management and payment solution. The software has been created for faster, more convenient and eco-friendly management of customers, payments and other energy station processes.

Our CSMS (charging station management system) makes the station's on-site management and control hardware free. The user-friendly web manager allows you to easily monitor, analyse and manage all your stations work remotely. Cloudics mobile payment application replaces old OPTs (outdoor payment terminal) & other payment equipment. Mobile payment can be used as a side-by-side alternative option for your customers.
It is important to note that cloud-based solutions are overall better equipped to adapt to changes in the fast-paced business world. They are also a great way to show your company cares about the environment by having green solutions and eco-friendly business practices.
Read more about Cloudics here.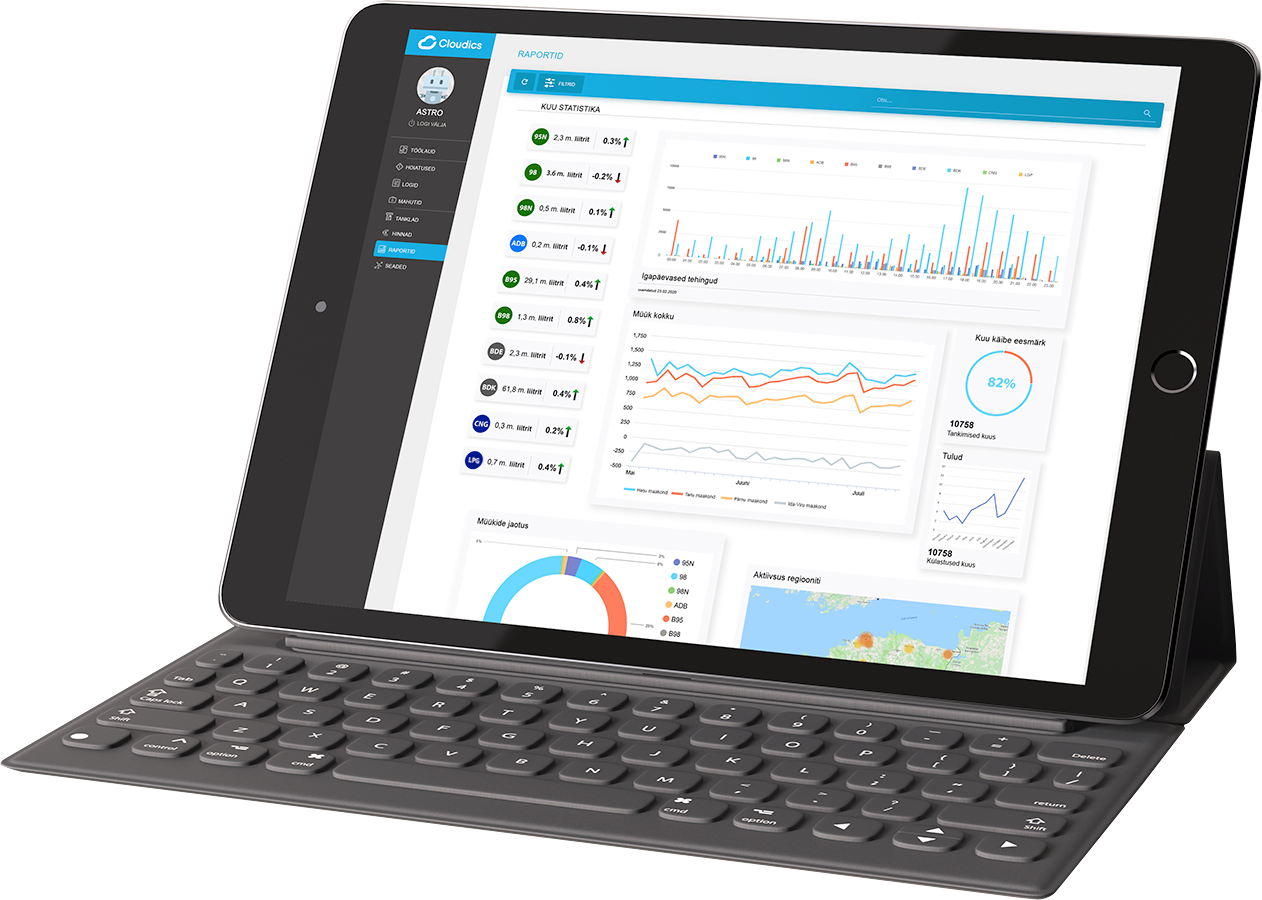 Cloudics Web Manager
Cloudics web manager replaces energy stations local systems. Our web manager is a tool that helps you optimize processes and operate in a goal-oriented manner.
The processes of managing charging stations are complicated. Our platform-independent web manager allows the owners of the energy stations and technicians to manage all the work and operations remotely.
For example, it is critical to ensure that chargers are running efficiently so that they operate properly when customers need them to. It is also essential to have a clear and detailed real-time overview of the whole station's network.
Once an issue is found, there's a need for tools to investigate, track and resolve it quickly and easily. With the help of Cloudics web manager, issue detection is followed by the ability to fix errors automatically before the drivers or the operators are impacted.

Our web manager transmits your energy data and payment data to the back-end (office), all the transactions are displayed in real-time and last but not least it is possible to manage master data and generate detailed reporting.
At the end of the day the business value of operational excellence delivers improved return on investment and increased monetization of your company.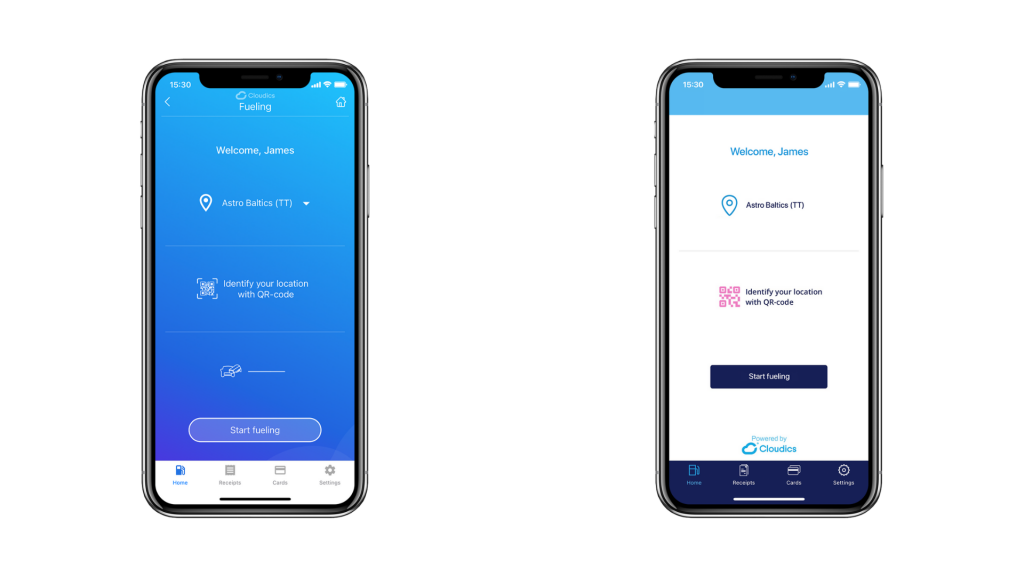 Cloudics Mobile Payment App
Customers are the most important piece of the puzzle. In order to increase clients satisfaction and loyalty, your station's management solutions need to be customer-centric. Ultimately resulting in minimizing client recruitment costs and establishing a stronger brand.

Refilling availability and stability are key to drivers' satisfaction. All customer-facing tools need to be intuitive, simple and delighting the driver while providing a seamless customer experience.
Cloudics mobile payment application offers a convenient, fast and environmentally friendly refilling experience. It is an innovative payment solution created for your customers which removes all the unnecessary steps from the refilling process.
Our mobile payment application allows you to develop, understand and grow your customer base while providing an opportunity to engage new potential customers with the help of innovation.
Cloudics white-label application
Cloudics also offers a white-label payment solution for companies to deliver a high-quality customer experience and strengthen their brand.
The solution can be modified to your business model while focusing on individual customer requirements to provide the payment process you need to succeed today.
The white-label application intuitive usability and other features like viewing receipts and adding all the loyalty & payment cards take your customer experience to a whole new level.
Your own app completes your brand comprehensively, increases your customer loyalty and links your customers to your services.
The mobile payment process: quick, comfortable and easy to use!

Find the station and open app with a press of a button – customer can locate a charging station on the road and navigate directly to it.
Location idenfitication – User location will be identified using license plate recognition, device location or QR-code.
Choosing the charger / plug type – Customer can choose the charger with just a few taps on the screen.
Start charging – Real time overview of charging in progress.
View receipts – A notification is sent when the charging is done and receipt will automatically pop-up. Receipt can be downloaded or shared if neccessary.
Integration
The EV charging network is a complex market, with a wide range of stakeholders with multiple business needs, unique business models and ever-changing requirements.
Cloudics solution is borderless, which makes it easy to integrate into your current system. Installation can be done anywhere in the world in just a few minutes. Our demo environment is set up easily, so don't hesitate to contact us for a try.
It's really easy and our technical team will support you at every step of the process.

Cloudics also allows the integration of charging stations into your filling station infrastructure thus making your entry into e-mobility easy and with the lowest investment possible.
Ultimately Cloudics will allow your filling station to offer EV charging as an extra option for refuelling while giving you a convenient entry to the EV charging market.


Learn more about Cloudics solutions
Our team at Cloudics has spent multiple years developing a EV charging networking solution that everyone can benefit from.

If you are curious about our solution and wish to know more, then don't hesitate to contact us for more information.
Sign up for demo here.
Regarding any questions about Cloudics contact our representative Priit Pint on LinkedIn or write to us:
info@cloudis.eu
+372 628 0000

Cloudics
Future of Energy Stations!